If I could go back in time and tell myself to do one thing differently, it would be to "start learning excerpts sooner."
I did my undergrad at a great college, and had an amazing teacher, but there was this culture that excerpts were something you worried about later in life….like when you went to grad school, or wanted to get a job and stop eating ramen noodles.
The thing is, orchestral excerpts need time to grow with you, to become your friends that you revisit and get to know more intimately everytime an audition comes up. Sure, anything is possible and you could learn 20 excerpts cold and win the New York Philharmonic's audition, but it's just not that realistic (even if you are some kind of wunderkinder ).
So what if you learned just five excerpts each year or summer of your undergrad. By the time you graduated, you would have a 4-year relationship with some excerpts (your new b.f.f.'s) and be really comfortable with 15 other excerpts.
Playing them with an orchestra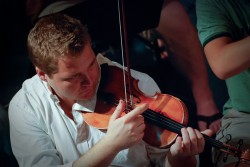 One huge advantage to performing excerpts well is if you have played them with an orchestra.
When you play them with an orchestra, you start to really understand why they're excerpts. Sure, most times, they're just really stinkin' hard, but you also hear that other instruments are trying to tune to you, or that you have to play it as a duet with the flute (who has a different interpretation of where the beat is), or that if you rush through that passage it will actually cause a train-wreck.
When you're in school, you might play two or three concerts a semester, and I bet one of them is either a holiday concert, accompanying the choir, accompanying the concerto competition winners (and $5 says it's the Nielsen flute concerto…blegh), or the most dreaded of all…Student Composer Premieres (I really love the ones where you have to whisper your home address while playing sul pont tremelo).
Chances are you only get to two, maybe three actual masterworks all year.
Now let me tell you about a festival that has changed my life:
I first attended the Masterworks Festival when I was 16. I had only played in youth orchestras, and wasn't even sure I wanted to be a musician professionally. I was super intimidated by the high level of playing, and a little overwhelmed by all the music we were playing in orchestra. I thought everyone would be super competitive and not want to even talk to me. However, I was blown away by how warm, inviting and sincere everyone was.
There's something different about the MasterWorks festival. It's a Christian music festival (you don't have to be a Christian, or any denomination to attend), however the focus of the 4-week experience is on integrating faith and the arts.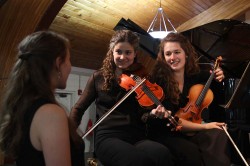 This year I am proud to be serving on the violin faculty, and will be working with the other amazing faculty to focus on orchestra studies and audition excerpts.
The festival has two orchestras which perform four concerts each, and this year will be performing some amazing works including:

Bach: Concerto for Two Violins, BWV 1043
Beethoven: Symphony No. 9
Beethoven: Piano Concerto No. 3
Bruch: Violin Concerto No. 1 in G minor
Debussy: Nocturnes
Dvořák: Symphony No. 9
Mahler: Ruckert Lieder
Mahler: Symphony No. 1
Mendelssohn: Symphony No. 4
Prokofiev: Romeo and Juliet
Rimsky-Korsakov: Russian Easter Overture
Rossini: La gazza ladra Overture
Weber: Concertino in Eb Major, Op. 26
Schubert: Symphony No. 8
Smetana: Bartered Bride Overture
Stravinsky: Firebird Suite
Tchaikovsky: Symphony No. 2
In addition to this great orchestral experience, students will have the opportunity to perform in mock-auditions, and get feedback from world class faculty that will include:
Alana Pritchard Carithers, violin-Richmond Symphony Orchestra
Terry Langdon, viola-Indianapolis Symphony Orchestra
Alan Harrel, cello-Cleveland Orchestra
Thomas Sperl, double bass-Cleveland Orchestra, and many others.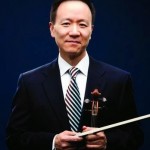 I'm also incredibly excited about a masterclass by David Kim, concertmaster of The Philadelphia Orchestra.
If improving your excerpts, and getting the opportunity to play these masterworks with a great orchestra is something you're serious about, I would urge you to check out The MasterWorks Festival, which is taking place June 15 – July 13, 2014 in Winona Lake, IN. Also there are a number of scholarships and work-study options to help reduce the cost, so inquire about those if needed.
Don't wait for future-you to show up in a Delorean to tell you that you should have started learning excerpts sooner.
The friends I made at the MasterWorks Festival my first year have literally become my friends for life (and I'm not talking about excerpts). It's a festival unlike any other, where you can grow musically and spiritually, and be inspired to take your performances to the next level.
I hope to see you there this summer.
Be well and practice well.
-Michael O'Gieblyn
The MasterWorks Festival
Here is a brief overview of the festival: